Sustainability
Since the foundation of the company sustainability has been a cornerstone for us. The story about BROEN started in 1948 when Poul Broen invented the PARCEO shower automat that was able to save water.

In the following years the valve technology has been significantly improved and energy efficiency is still an important element in our product development.

The product itself contributes to a greener transmission or distribution of water, heat or gas but also in our production we strive to become more energy efficient. Read more below.

We work with the UN sustainable development goals as a framework for our efforts in reducing the environmental footprints of the company. All 17 goals are important to reach the ultimate target but we have chosen to focus on four sub goals to maximize our impact.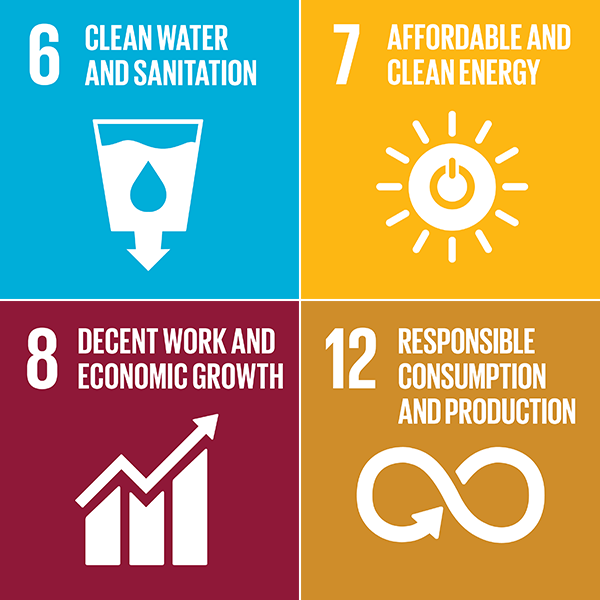 6. CLEAN WATER AND SANITATION

BROEN supply quality products (ball valves) that contribute to distribution of clean water in buildings or waterworks all over the world. The ball valve is part of the water distribution solution to make it efficient, sustainable and energy saving without unnecessary loss of resources.

In our products we only use environmentally friendly materials approved for potable water. The new Full Flow product we have made of a stainless steel material – and by doing so we go beyond what is legally required in many countries.

The Full Flow ball valves are made "cavity free" so that the valve is continuously flushed through. This means that you avoid stagnant water in the valve and thus growth of bacteria.

7. AFFORDABLE AND CLEAN ENERGY

District energy and natural gas are important elements in the green transition and as supplier to these segments we contribute to a more sustainable energy sector.

To push the sustainable development we cooperate with a number of interest groups like Danish District Heating Association and State of Green.

Products from BROEN make buildings more energy efficient. Lately, we have developed BROEN Ballofix® Full Flow with an energy-optimized flow design that will give all valves a very low internal flow resistance. This makes the product more energy efficient.

8. DECENT WORK AND ECONOMIC GROWTH

BROEN is a responsible company and we nurture personal growth in a safe and healthy working environment. We meet our employees with flexibility, trust and respect as we believe this will improve job satisfaction and retention - and we support education plans on all organizational levels. At BROEN we embrace diversity among our staff as this will provide the best input to our business.

Our suppliers must accommodate certain requirements stated in the BROEN/Aalberts code of conduct in terms of how they handle health and safety of their employees.

Through innovation - like for instance the new Full Flow technology - and technological upgrading within e.g. IoT and Industry 4.0 we wish to achieve higher levels of economic productivity. We want to design new innovative products that are less resource demanding in both production and operation.

12. RESPONSIBLE CONSUMPTION AND PRODUCTION

At BROEN we are ISO 14001:2015 certified and we use it to control and improve our efforts in terms of the environment.

We have a special focus on avoiding material waste and consequently all metals are recycled. Going forward we also want to reduce the consumption of plastic and packaging.

When we develop new products we always optimize on e.g. the environmental profile of the material, energy consumption and how we can recycle the product.
"Historically, product life time and performance have always been important drivers in our product development. In addition to this, we evaluate the materials used, their volume and recyclability as an integral part of our development process.

 



Over the years this has led to great changes. With the introduction of Full Flow valves the weight of the Ballomax® ball valve decreased by more than 29% and at the same time flow performance was improved by 13%. This corresponds to 2,5 kCO2 per valve per year."

 
- Head of R&D Mads Lildholdt

BROEN follows the principles in the UN Global Compact in terms of human rights, sustainability, anti-corruption etc. This also applies to our suppliers.

Furthermore, we are subject to a "Code of Conduct" from our owner Aalberts N.V. which also requires a responsible and sustainable business conduct.

Please contact us for more information.